Kocktail's mission is to bring fresh cocktails to our homes, ideal for these covid times where we're kept from/wary of socialising at the bar. It's a mission we at Primrose could get behind, and one we thought tied in nicely with our new luxury Primrose Living range.
Comfy chairs, crisp cocktails and conversation, all from the comfort of our own homes. Read on for some cocktail-making tips and a secret little discount at the end – perfect ahead of Father's Day (20th June) if your dad likes to tipple!
The Set-Up
Our Kocktail boxes arrived on the morning of the event, perfect for preserving the fresh ingredients contained within. I took a sneak peek ahead of the evening, which meant I had plenty of time to gather/make ice, lime juice and a shaker together with four glasses for each of the bottles in the box.
Strange though it felt to set up cocktail stuff in the 'office', I was more than ready to get tasting come  5 o'clock.

Four 5 o'clock cocktails calling
The Event
An exclusive guest list kept the strain on our home routers to an acceptable level, with four colleagues from Primrose, the presenters and cocktail experts from Kocktail, and eight guest bloggers and writers from the world of home interior and garden design. After some brief introductions it was on to the main event and our first cocktail: The Sunflower.
Sunflower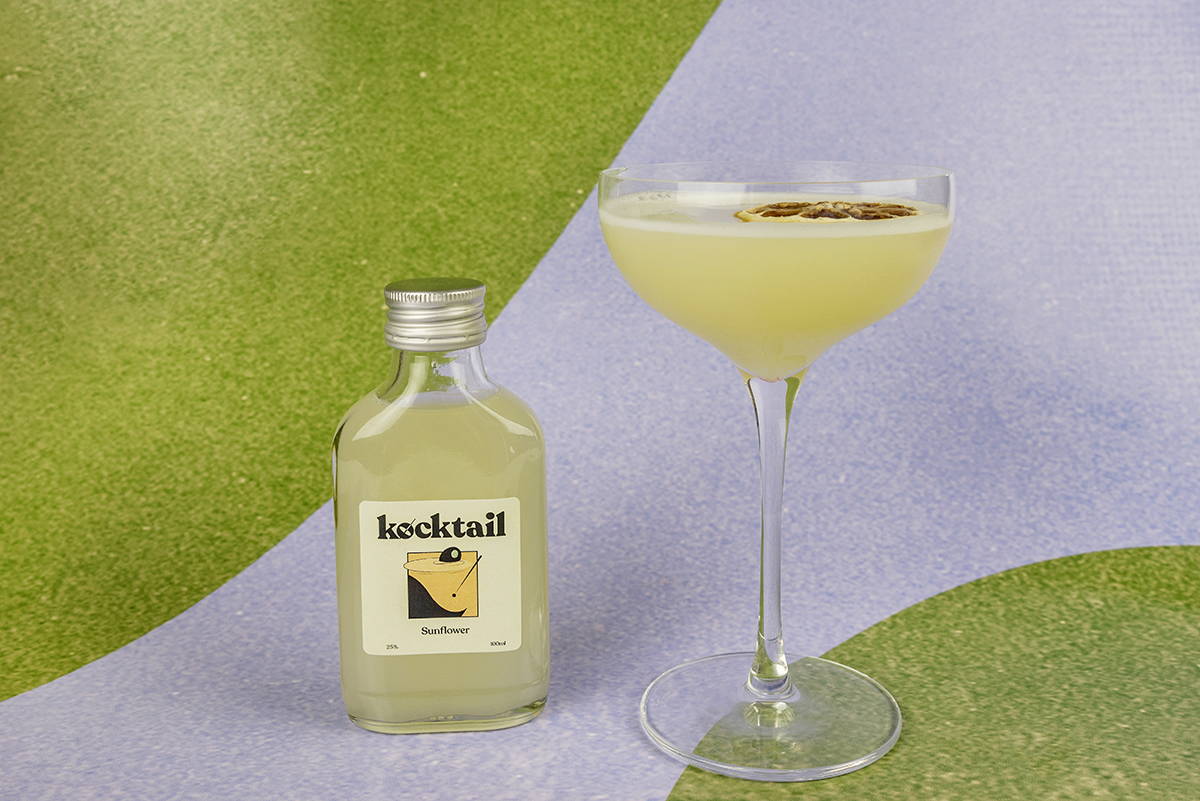 The photographer's double-parked
A smooth summery Sunflower started off the evening to a fruity start, packing a punch with its equal parts Hepple gin, Cointreau, lemon juice and elderflower liqueur. And a dash of absinthe for good measure.
Not having a bar jigger for the measures didn't hold us back, as  all we had to do was vigorously shake the Kocktail bottle our Sunflowers came in. That got the lemon juice well and truly mixed in, which paired well with the lemon wheel provided in a foil pack for freshness.
Starting with an absinthe-containing cocktail certainly set the tone for the rest of the evening! Next up: the Banana Cognac.
Banana Cognac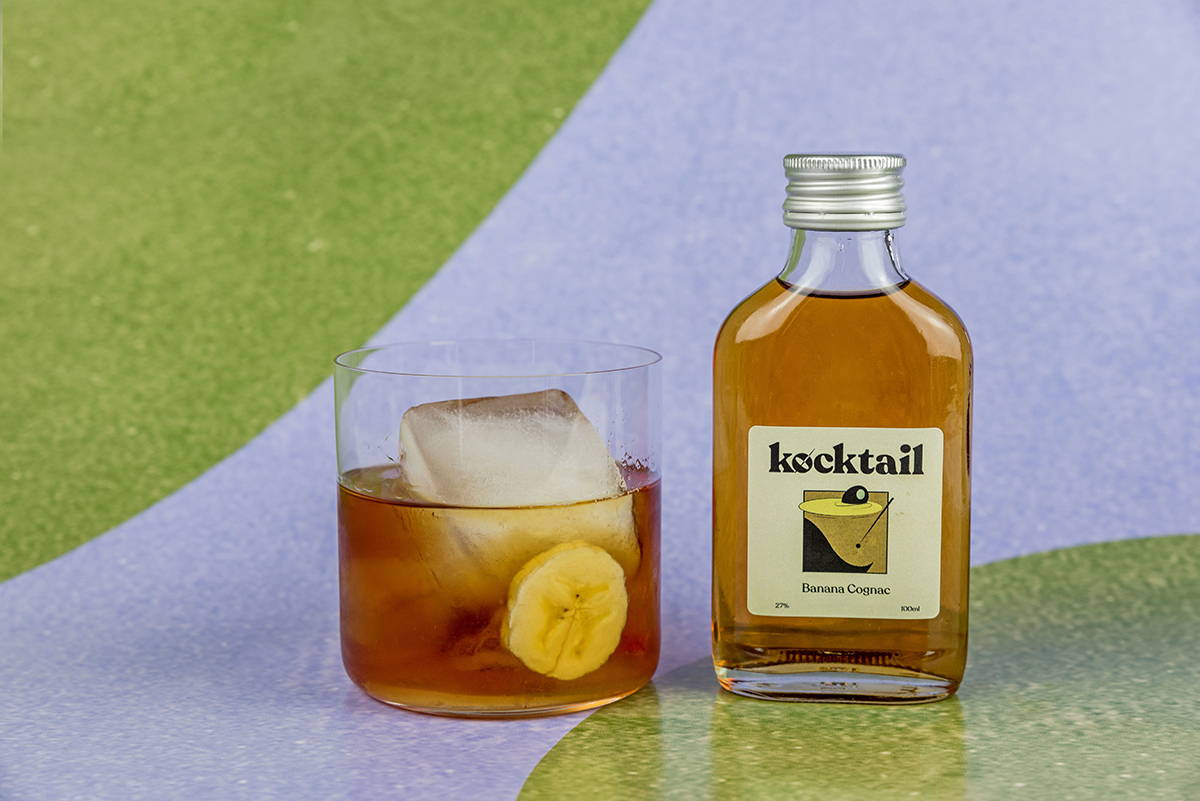 Iceberg ahead – or a tiny glass
BaCognanac to its friends, the banana cognac was a smooth follow-up to the Sunflower, reminiscent of a late-night closer to the Sunflower's early-evening flavours. You could picture sitting in a dusky bar while drinking it, though the banana chip makes it more modern and metro than 20's-style private-eye musing.
George was the man taking us through how to make these fruity masterpieces, carefully crafting and pouring measures while taking us through some of the backstory and reasoning for the ingredients. Andrew then took us through the cocktails' origins and inspirations, which you can find on their website should you want to know more about Kocktail's cocktails and what they're about!
Suitably inspired, it was onto the last Kocktail of the evening (4 cocktails might have been a bit much to put away in one go on a Thursday!): the Spicy Flamingo.
Spicy Flamingo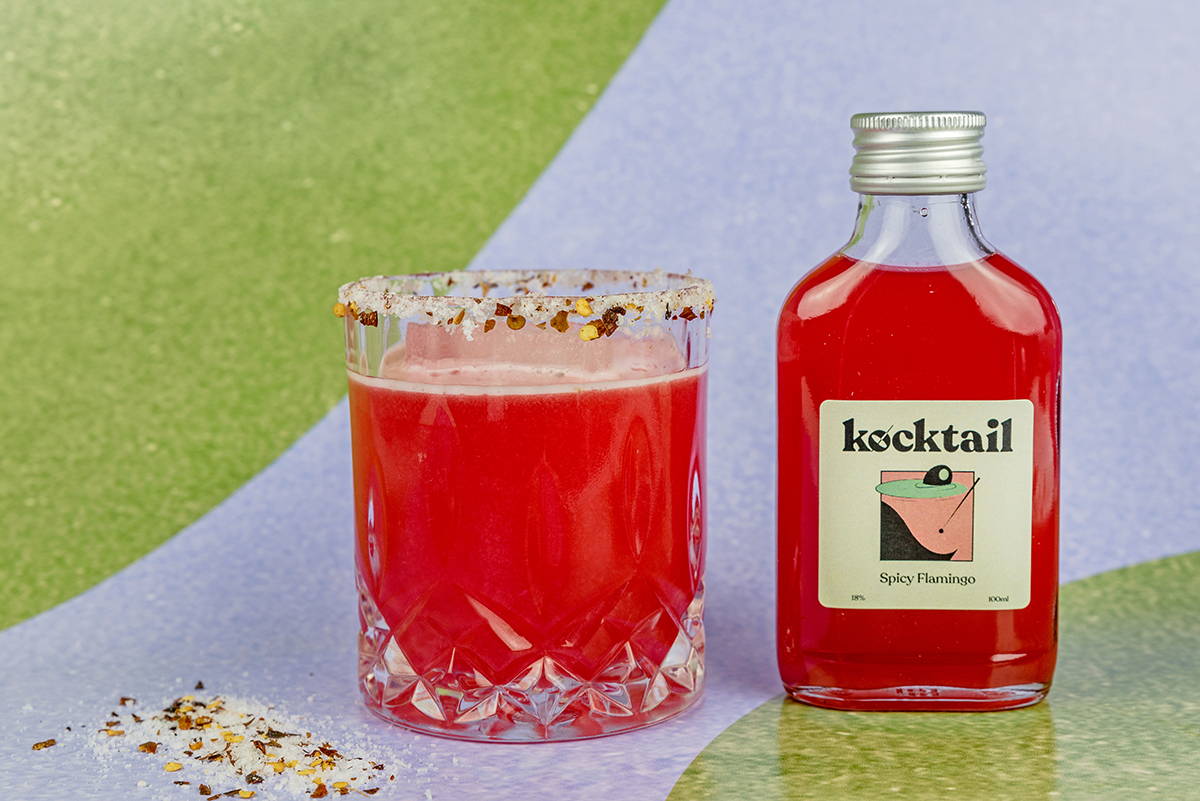 Spicy fruity salty goodness
Ideal for a summer evening, with a hint coming from the chilli salt reminiscent of the finest Mexican foods. Picture a fruity tequila shot, add some watermelon and you're on the right lines, then rim the glass with fire and you're good to go!
Coupled with a chat about the greatness of Primrose Living, that last fiery glass brought our little event to a close. We saved the Andalusia Calling for another sunny evening, filled as it was with lemon and peach – perfect for a weekend tipple!
Not only did we have another cocktail to enjoy, but Kocktail left us with a little treat to share – use code PRIMROSE30 to get 30% off you next Kocktail order, great as a gift or to treat yourself to cocktails at home!
Want to get involved in our next event? Reach out to @Primrose.co.uk on Instagram to let us know why you want to be on the guest list!